CES2019丨An exclusive interview with Lin Huanmin(founder of HYM) :Combination of traditional and modern
On January 8th, CES, the world's largest consumer electronics show was officially held in Las Vegas, USA. In this technology party, CE magazine interviewed a creative team from Taiwan – The Co- founder of HYM , Lin Huanmin.
Deputy Secretary-General of CECC, Chairman of Shenzhen XiaoFeiBao Network Technology Co., Ltd.and Executive Director of CE Magazine, Wang Fushan (R)and the Co- founderHYM , Lin Huanmin take a photo
In the interview, the reporter learned that HYM is a design-oriented brand, and hopes to combine the beauty of the design with the traditional vinyl music. Committed to the integration of vinyl culture into modern life, development and the continuation of vinyl music culture, so that modern people can easily experience the joy of life brought by vinyl music.
At the beginning of the HYM brand, founder Lin Yimin came to the mainland to start a business in Taiwan, not only to make vinyl records, but also to distribute vinyl records. At present,as one of the largest vinyl record distributor in China, including the singers of Jacky Cheung, Karen Mok, Faye Wong and other singers, is responsible for HYM, and has good cooperation with Universal and Warner.
From product development to marketing and sales, it took two years to release a variety of vinyl records during the period, and cooperated with Universal Studios to give priority to producing music records with a wide domestic audience. In the process of launching, users are constantly accumulating, and then the hardware products are officially listed, and "there should be external integration", everything is in order.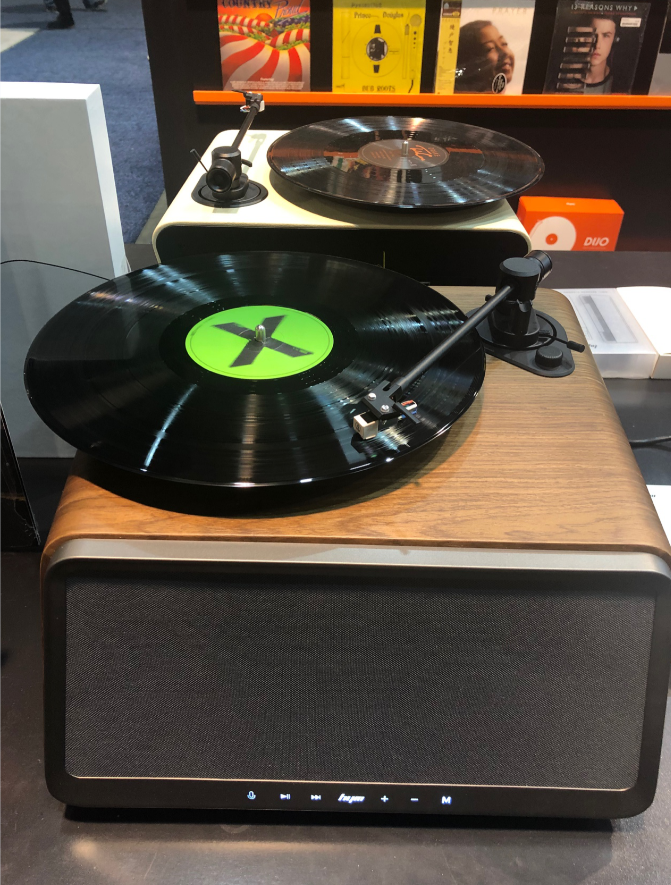 Speaking of hardware, HYM combines a vinyl record player, a bluetooth speaker, and a WiFi speaker into one. From the morphological aspect to the traditional and modern, it retains the classic record reading design and adopts the mainstream built-in speaker design. The use of wooden textures to create a retro impression of the product is just right.
We also hopes to see more interesting cross-border products. This process is not a simple 1+1. The combination of the two fields will definitely produce a different "chemical reaction."
Thanks to HYM for bringing great products to consumers, so that consumers have more choices, a lifestyle choice.
Live dialogue:
Q: CE magazine A: HYM-Lin Huanmin
Q: What is the reason for you to do this?
A: I am doing design background and I also like music. I think music is a medium that everyone can enjoy, and I hope to use design to combine music to achieve a better lifestyle.
Q: What is the main product of HYM now?
A: We can now divide into two major sections. The first is our own content. At present, it is the largest vinyl record distributor in China. It produces 2-3 vinyl records every month, including singers such as Jacky Cheung, Karen Mok, and Faye Wong. The records are all being done. In fact, it is the main vinyl record smart speaker. It has been sold in more than 60 channels in China, and won the sales champion of Tmall "Double 11" vinyl record player for two consecutive years.
In the past, a record player, an amplifier and a speaker were basically about RMB 12,000, but we wanted to do it together. Four years ago, no foundry could do it, because one is mechanical and the other is acoustic. In the middle, we must consider the problem of interference. It is very difficult to integrate them together. Later, we simply do it ourselves and do it for two years, including R&D, production, market verification, and formality. Open for sale.
Q: What is the difference between domestic users and US users?
A: There is a big difference between the two. Most domestic users don't have too many vinyl records at home, or even no. The purpose of buying vinyl is more to experience a lifestyle, the audience is younger, 18- Between the ages of 30, but it is more common in the United States, and vinyl records are also easier to buy.
Q: Many companies that do audio are selling audio, one-time trading, and there will be no interaction if there is no problem with the product, but I see that your business model has a good "closed loop".
A: Yes, we sell audio (recording machine) is also a one-time transaction, but the record is also our own, even if one day, the market has a cottage, consumers still have to buy records here, in the process Can have more interaction with users, because content production is in their own hands.