Technical Innovation in Asia First CES Asia held in Shanghai
HA1 Intelligent safe
The HA1 intelligent safe from Heers Technology integrates unexpected security loophole solutions of the traditional safe into a glass tablet PC, and also provides you with more functions to promote your sense of security in a comprehensive way. Its four sizes can meet various functions, and a variety colors are optional. It has a police-level logical security architecture, a stable black-blue 7-inch multi-touch display screen, and a 24h battery endurance time.
Cadillac that can be opened by a watch
As for unmanned racing vehicles, Cadillac has turned its eyes on the watch. The OnStar APP jointly developed by Cadillac and OnStar is tailored for the Apple Watch and Samsung Galaxy Gear. Through the seamless connection of 'intelligent watch or mobile phone – Cloud terminal – on-board system', it can realize such functions as remote-controlled vehicle locking, vehicle health status monitoring, vehicle position inquiry, etc.
Beiang air purifier
A unique air purifier brand invited by the CES Asia, Silicon Valley air expert Beiang brought its brand-new black purification technology and exhibited its cutting-edge of non-consumable purification technology. Without a blower, the Beiang air purifier drives air ventilation through ionic movement to form wind energy, which can absorb charged particles. Such a technical design makes the machine's running sound like blossoming, and also solves the problem of traditional purifiers needing their strainers replaced frequently. You only need to clean its collector, and it can be used repeatedly.
Several of Beiang's machines are equipped with intelligent remote-controlled terminals. Another dog-like air quality detector is more like an intelligent butler, and it can detect air temperature, humidity, PM2.5 concentration, etc. When the PM2.5 concentration is over-high, the 'dog' will automatically give its work order to open the Beiang air purifier.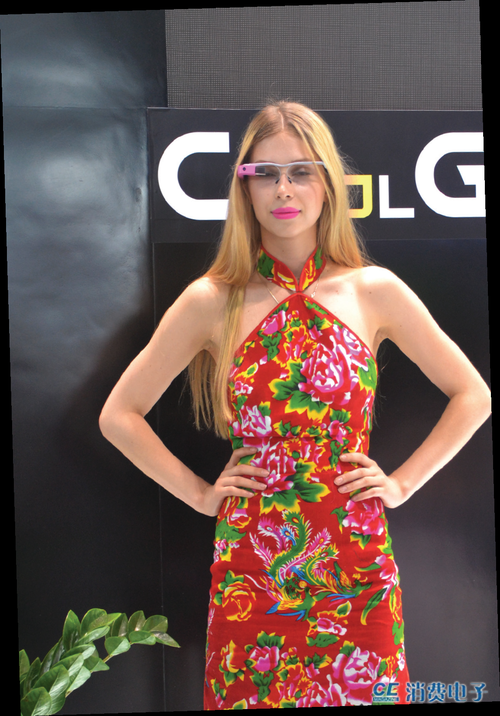 Alto Tech intelligent CoolGlass One
AltoTech launched its intelligent CoolGlass One, a pair of domestically-first intelligent glasses with the function of Chinese voice operation. This product is equipped with an 8,000,000-pixel camera, and uses bone conduction technology. Through the glasses' voice and touch operations, the user can realize such functions as voice telephone dialing, photography, video recording, navigation, etc. Moreover, they have an AR display enhancement function. No matter where the user is, the glasses can display detailed peripheral information. As such, these glasses are suitable for driving, travelling and outdoor sports. With a cool appearance, CoolGlass was designed by the world-famous industrial ID design company Frog. Six colors (red, white, blue, yellow, pink and grey) are optional. Moreover, CoolGlass uses snap-in type lenses which can be replaced by users with dispersing lenses or sunglasses lenses.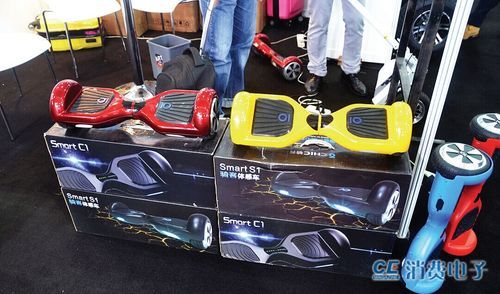 CHIC body-sensing vehicle Smart S1
The CHIC body-sensing vehicle Smart S1 Sapphire Black continues the intelligent electric vehicle dynamic balance principle. By using an internal gyroscope and acceleration sensor, it can detect the posture change of the vehicle body according to changes in the center of gravity. Its rodless design can free up your hands and make your activity more flexible. The weight of the vehicle body is 10 kg, so it is easily portable. Its maximum speed is up to 10 km/h. Its endurance mileage is up to 20 km.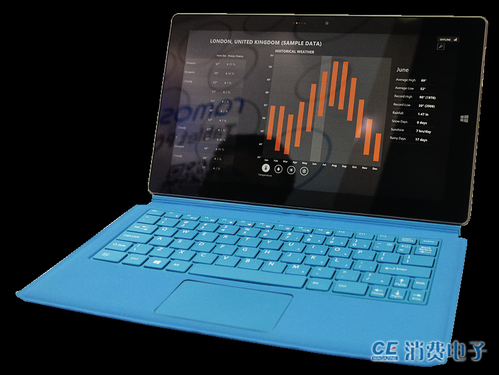 PC/Tablet two-in-one product – Ramos M12
Along with its first tablet PC partner Ramos Digital, Intel participated in the exhibition and exhibited its PC/Tablet two-in-one product the Ramos M12. Equipped with Intel's latest Core M processor, it is Ramos's first PC/Tablet two-in-one product. The Ramos M12 tablet PC uses a front-black rear-grey design. Its rear cover uses metal oxidization and sand-blasting technology, and is equipped with an adjustable metal holder. Matched with a keyboard, it can also be used as a laptop. The M12 uses an 11.6-inch screen with a resolution of 1920×1200. A touch Windows button is arranged at the right side of the body. Its processor uses Intel Core M 5Y70, and is equipped with a USB3.0 interface and micro HDMI interface.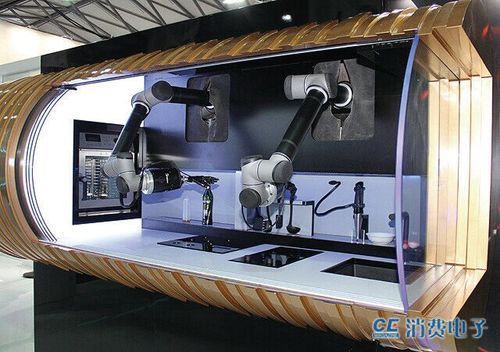 Cooking robot
According to the introduction, this product system was created by Moley Robotics. Through image capture technology and special sensing gloves, it can record the chef's every cooking step and gesture skill and then replicate those movements to precisely cook the same delicious foods as the chef. It is the world's first intelligent robot kitchen. We can see that its greatest difference from other kitchens lies in its manipulator arm, which function just like human arms. It can use its ingredients like a professional a chef to complete a dish.
The inventor's main thought was to create a universal machine that can cook any food in the world, and can also apply any cooking technology. Of course, it is also a tool which can cook the same foods as chefs can. This robot is expected to enter the market in 2017, and its final version will have the added function of a dish-washing machine, at a selling price of RMB 90,000. An oven will be presented to the buyer.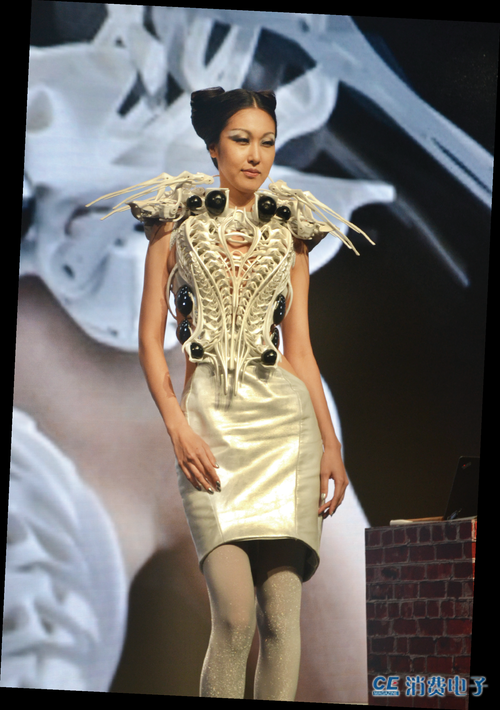 Intelligent spider suit
A trend signal registered by the exhibition is that some up-to-date IoT technologies have been applied to the apparel design sector. On that day, a female model in a splendid 'spider suit' exhibited IoT technology. This hollow apparel is installed with 20 sensors which can transfer the wearer's biological signals onto Intel's Edison platform. It can then be changed according to the wearer's actions. Moreover, it can detect the actions of any person within a radius of 7 meters.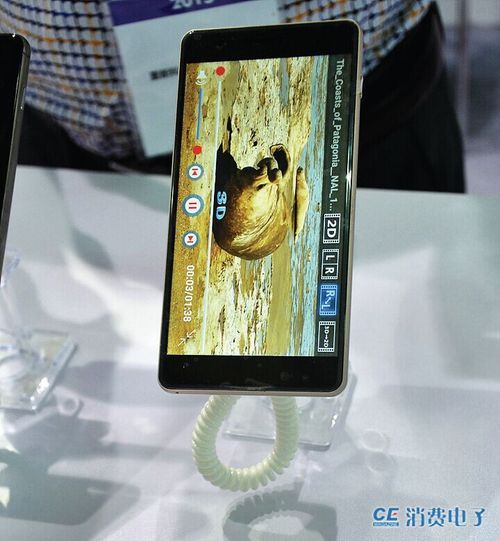 Amoi first naked eye 3D smartphone
At the exhibition, Amoi exhibited the first naked eye 3D smartphone. This mobile phone can support a naked eye 3D display, is equipped with an 8-core processor, and can support a 5-model 15-frequency dual-4G network. The design of its appearance is similar to that of safe new products: straight panel + round corners, and a middle frame with an arc surface.
MOTA intelligent ring
The MOTA intelligent ring has the same functions as that of an ordinary wristband in the market. It can receive such notifications as telephone calls, short messages, social contacts, etc., and remind users through vibration. In the mobile phone application program, the users can use self-defined subscription contents. The MOTA intelligent ring's round touch screen can bring users a good user experience, and switch information through finger-sliding. Its pearl white and midnight black colors attract you to try it out.
Intelligent home series
The SOOALL UFO internet game STB unites with GAMECAST to select more than 5,000 of the latest and hottest mobile phone games, and supports same-screen interaction, changing your mobile phone into a body-sensing game handle and your TV into a family game center. Its high-end Hisilicon platform can support Windows 7/8, and its Android 4.4.2 system can meet the family entertainment demands of users for playing games and watching movies. With its UFO-shaped body and unique absorption suspension remote control, its industry design is perfect. Other SOOALL intelligent home products such as the SOOALL Flying Fairy intelligent camera, cloud lamp, intelligent socket, etc., also made their debuts at this grand gathering, perfectly showing SOOALL's Connection Ecosystem Pattern.
SOOALL NEXTDNA E-BIKE
Intelligent man-machine interaction systems evolve quickly. With the foundation of the internet platform, for the purpose of building a green, eco-friendly, sound and harmonious internet society, SOOALL has researched and developed a self-generating intelligent dynamic single vehicle named the 'SOOALL NEXTDNA E-BIKE'. Besides its strong data metering and collecting functions, users can convert kinetic energy into electric energy through sports fitness, which can then charge small home appliances, and the excess electricity can be directed into the mobile power supply. The SOOALL NEXTDNA E-BIKE can build an individual fitness center system via an APP to monitor your fitness effects, and can also support riding scene simulation and group game interaction, thereby making sports more interesting and giving fitness more significance in life.
GARMIN Forerunner 225 sports watch
At the exhibition, Garmin launched its first professional sports watch the Forerunner225, which has optical heart rate components. Compared with the previous FR220, Garmin's FR225 has a slight change in its appearance and the same thickness. Its largest upgrade integrates a photoelectric cardiotachometer at the back. Over the past two years, photoelectric heart rate technology has made rapid progress. Garmin has certainly taken full consideration into its application in the wristwatch. Its precision rate is certain to reach the industry-leading standard. As a holder of the ANT+ patent, Garmin has retained the ANT+ agreement for the FR225. As such, whether the heart rate is measured by a traditional heart rate belt or direct photoelectric technology completely depends on the user. I believe that most people will select the latter, which can stimulate more people to run scientifically and guide the scientific fitness tide.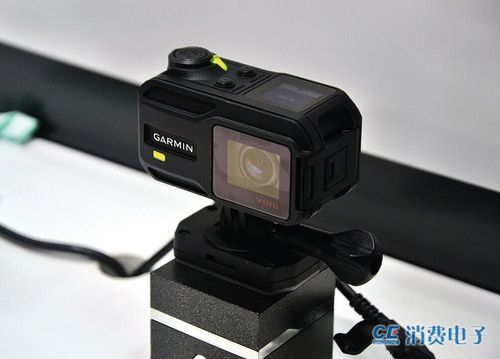 GARMIN launches VIRB X, VIRB XE sports video cameras
At the exhibition, GARMIN launched the VIRB X and VIRB XE sports video cameras behind its VIRB Elite. Such sports video cameras are more compact, and equipped with built-in sensors for GPS, gravity, direction, etc. The biggest characteristic of the VIRB X/XE is its 50m waterproof ability, enabling it to be used while diving without need for any protection cover. Its recorded video and data can be imported onto the mobile phone APP for instant editing and sharing. VIRB is a video camera that tells a story through images and data.
SnailVR SVR Glass VR Glasses
Its top-level optical design is a major selling point of the SVR Glass, and its 96° FOV (Field of View) with a bigger image brings the user good a movie-viewing experience comparable with that of a 1,600-inch big screen at a distance of 20 meters. Even short-sighted users can use it directly use without wearing their glasses. It can support a 0~800° myopia degree which can be adjusted at both sides. It also has an industry-leading pupil distance adjustment scheme. Its unique fashionable appearance and application VR butler are the highlights of the SVR Glass.
Konke K2 socket
Konke's K2 socket is not like other sockets which can only provide simple functions. Through two externally-connected USB interfaces, this socket can theoretically realize any required functions, such as perception, control, etc. Through various plug-ins, this socket can realize such functions as body induction, environment monitoring, IR control, curtain control, etc. Matched with the APP, these plug-in modules can realize more intelligent functions.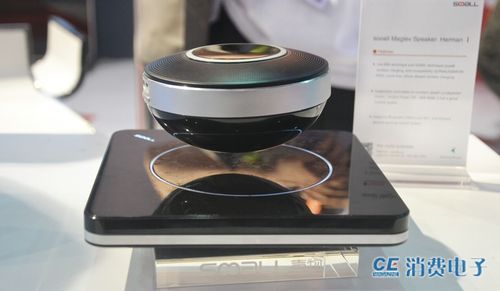 SOOALL's magnetically-suspended acoustical speaker Hermann No. 1
Through the antigravity principle, these speakers are suspended and rotated. they integrate such advanced technologies as electro-acoustics, spatial air flow, electromagnetic field, wireless RF, energy teleportation, man-machine interaction, and directly resonance with the air, giving them an ethereal and melodious sound. They support such functions as bluetooth hands-free calls, suspended non-contact wireless charging, NFC fast matching, gesture control, etc.
Garmin fēnix3
The biggest characteristic of Garmin's fēnix3 is that it is the first watch to perfectly combine GPS with metal with a built-in GPS and metal watch bezel. Moreover, it has a high-definition colored light-borrowing screen. The stronger the outdoor sunshine is, the clearer its display effect will be and the stronger its color. The fēnix3 can upload data via Wi-Fi more quickly and conveniently than Bluetooth. It can also support all outdoor sports.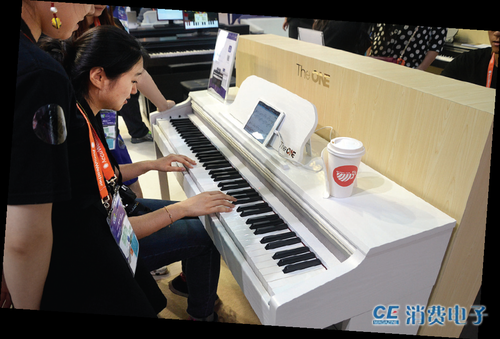 The ONE intelligent piano that can teach you how to play
The ONE intelligent piano can teach you how to play the piano. Its tone key feeling is absolutely stunning. The numerous set experience feelings in its teaching APP are also very enjoyable. Playing the piano or playing a piano game according to the indicator on the keyboard can greatly stimulate the interest of beginners in learning the piano. Even for some traditional courses of the Central Conservatory of Music, it is interesting to learn through this intelligent piano. As such, the piano is no longer a luxury that only other people's children can afford.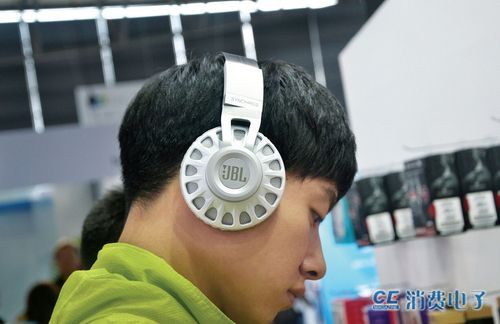 JBL Synchros flagship product JBL S700
Using light die-casting aluminum, steel and knitted Cordura, the JBL Synchros S700 is a breakthrough research product created at the Harman Acoustical Laboratory. With the JBL sound system used in some globally-famous clubs as a model, these headphones can create a balanced voice frequency experience, retain definition regardless of high sonority, and provide a deep and strong bass sound. Its patented LiveStage signal processing technology can strengthen its sound performance, creating a purer and more vivid listening experience. With its built-in chargeable lithium battery, it can continuously play 28-hour LiveStage sound effects. The Synchros S700 lets you enjoy your favorite music anytime and anywhere. With the brand-new luxury design of its real materials and revolutionary sound effect performance, it is a true flagship product.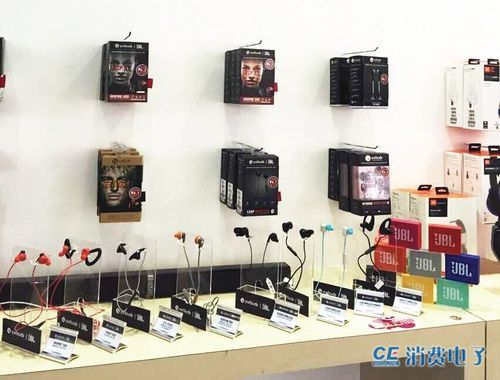 Yurbuds launch many new products
The professional sports earphone brand Yurbuds, ranking first in sales volume in America, launched many new products at the CES Asia. Yurbuds was jointly founded by Ironman triathlon athlete Seth Burgett and professional marathon runner Richard Daniels. At the CES Asia, the Yurbuds earphone series was exhibited. Its durable series includes the in-ear type Inspire and the ear-hook type Fouce. Yurbuds's earphones are divided into the male style and female style. The colors of the male style earphones are mainly black and dark red. The colors of the female style earphones are mainly purple, blue and pink. The Inspire/Fouce 100 have TwistLock technology which can guarantee firmness, and FLEXSOFT technology which can guarantee lasting comfort. Based on the Inspire/Fouce 100, the Inspire/Fouce 200 adopt QuikClik magnet technology which can prevent the wires from becoming intertwined, enabling the earphones to hang onto the neck easily. Based on the Inspire 200, the Inspire 300 has an added microphone function. The Inspire 400 uses multi-key drive-by-wire technology.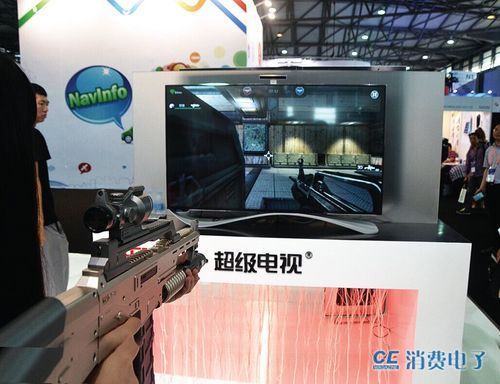 55-inch LETV third-generation super TV X55
The 55-inch LETV third-generation super TV X55 and 65-inch Max65 use Open Cell integrated body design with an anodizing aluminum ultra-narrow aluminum alloy frame and metal wiredrawing texture Makrolon rear casing. Its interfaces for mainboard circuits, etc., are wrapped in tawny transparent plastic materials. The third-generation super TV uses an ultrathin cloud base with an asymmetric streamlined design. The front of its body has a built-in breathing lamp.
FASTWHEEL intelligent self-balance vehicle
The FASTWHEEL intelligent self-balance vehicle is orientated as an alternative travelling tool for the application environment between cycling and walking, for the purpose of creating a more convenient intelligent travelling tool. Its automatic balance system greatly guarantees its security. Another characteristic of the FASTWHEEL intelligent self-balance vehicle is that it can be controlled through a mobile phone APP. It can check vehicle information and upgrade its firmware regularly. Moreover, users can communicate and hold vehicle friend activities via the APP.
94 Fifty intelligent basketball
The 94 Fifty intelligent basketball is no different from an ordinary basketball in appearance, weight, leather quality, etc. However, the nine inductors inside it can track the basketball player's shooting speed, radian, force and breakthrough ability, and compute the player's field-goal percentage. Through its Bluetooth low energy consumption technology, it can be connected with the APP through an iPhone or iPod Touch.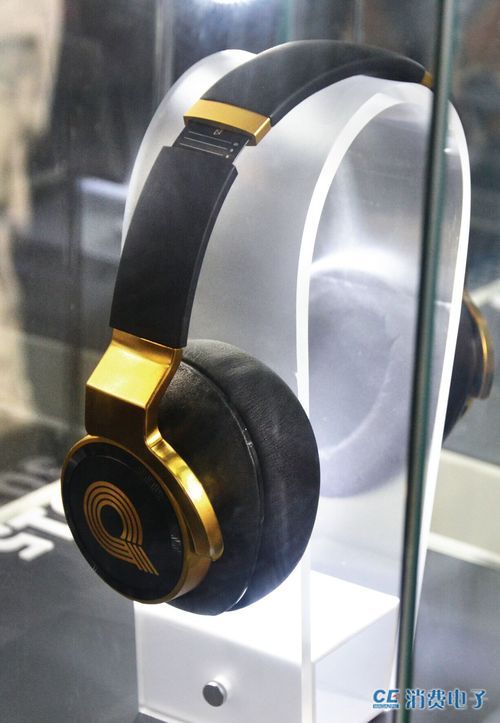 AKG classic headphones
The famous earphone manufacturer AKG exhibited its new earphone products, as well as its classic headphone products such as the AKGK120 and KK, which have been favored by many audiophiles. Their exquisite appearances and benchmark level sound are the most important reasons for their popularity.
Intelligent wearable drug conductograph
Based on the proprietary intellectual property rights of its intelligent wearable drug conductograph, Xiamen Microtech Biosciences has developed a series of uPatch products, including intelligent tobacco addiction treatment apparatus, intelligent drug addiction treatment apparatus, new drug conductograph, etc. The biggest highlight is that it can be connected to a smartphone or computer to set the time and dosage of administration through the software interface, and control the administration of drugs into the body at a fixed time and with a fixed quantity accurately by use of a microflow osmotic pump and sustained-release preparation core technology, thereby realizing intelligent and remote control drug administration and individualized medical treatment.
Walnut Intelligent Lock
Walnut Intelligent Lock launched a brand-new upgraded product at the CES Asia. This product is an intelligent door lock integrating wireless internet, intelligent control and advanced security technology. Its manufacturer Shenzhen Changen Industry Co., Ltd. innovatively integrated such technologies as wireless internet, intelligent security lock cylinder, etc. to realize the combination of a smartphone and security door lock. As long as you pass the scanning operation in the smartphone, you can open the lock easily. Moreover, you can also open the lock for others through remote operation.
The first CES Asia attracted many corporate executives, international buyers and retailers. The reporter from Consumer Electronics interviewed several corporate executives on the site. Now, let's hear their outlooks and experience concerning CES Asia.
Co-founder of Suzhou Beiang Technology
ZHANG Yan: As a whole, the exhibits at this CES Asia are very diversified. Any imaginable smart products can be seen here. For us, the CES Asia is a good opportunity to develop the intelligence industry. Compared with other exhibitions, the CES Asia has a stricter qualification review. In the beginning, three of our applications were not passed. After we wrote a letter to the organizing committee to introduce our company and the Beiang purifier's innovation and intelligentization, we finally obtained such an opportunity. As such, exhibits at the CES Asia with high specifications must be industrially cutting-edge and fashionable products. Compared with other domestic exhibitions, the CES Asia attracts higher international attention from Singaporean, European and American exhibitors, and this will greatly boost international promotion!
CEO of Beijing Zeepson Digital Co., Ltd.
PAN Yang: In truth, we participated in the American CES in January of this year. I think that the CES Asia is relatively suitable for our intelligent safe products. Our intelligent safe is an intelligent internet product. Perhaps most manufacturers make some intelligent products. However, intelligent safes have rarely been seen. Most of the products here are electronic products. Our products have participated in many exhibitions. This time, we wanted to promote our products through the CES Asia. It is a relatively important exhibition in the consumer electronics industry. I think that the CES Asia is held well, and it's quite bustling on the site.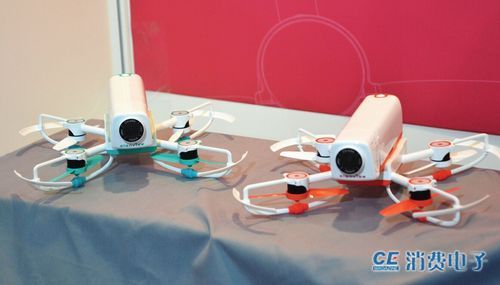 cicada unmanned aircraft for aerial photography
The cicada unmanned aircraft is an UAV for aerial photography with such functions as one-touch take-off/landing, one-touch automatic flight return, etc. Its 1000 mAh battery can support a flight time of 15 minutes. It can also shoot 1080P high-definition video, and is equipped with a 169° fish-eye lens + 15° adjustable professional 7-level glass lens set fish-eye lens, as well as a Sony photosensitive chip to broaden the shooting angle. Moreover, it supports 10-burst-shot 16,000,000-pixel photography, and it has several built-in dual-mode navigational positioning systems (GPS, Beidou and Glonass, selecting 2 out of 3.). The outdoor GPS can be set for both position and height, and the indoor barometer can be set for height.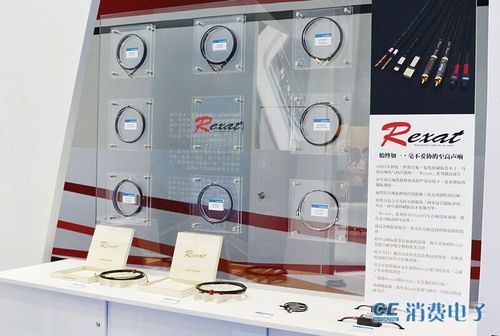 Rexat series cables
Audio-technica exhibited its Rexat series of cables, including the composite audio cable, speaker cable, power supply cable power accessories, USB cable, digital coaxial audio cable, digital optical fiber signal cable and so on. The Rexat series is the first to use the imported HANENITE vibration-controlled structure. With a clear and vigorous tone, it has developed a new market in automobile acoustic speakers, and deepened its previous vibration-controlled system concepts.
Planning Manager of Amoi Technology
PU Xuebin: The first CES Asia has gathered many domestic and overseas exhibitors and visitors. We have conducted many exchanges, which will greatly help us to enhance the design of our brands and products. As this is the first CES Asia, we were determined to participate in the exhibition. I think that its effects are very good. Various types of products are being exhibited at this exhibition, and we have obtained various exchange opportunities and information.
CEO of Shanghai SnailVR Technology
XU Xian: The first CES Asia gives great assistance to our products. Firstly, in exposure, publicity and first-hand information about industrial consumers and customers, this exhibition has had a very good effect. We have conducted very good exchanges with many insiders. Our new products launched at the first CES Asia have attracted much attention, so many visitors now know about the advantages of our products very well.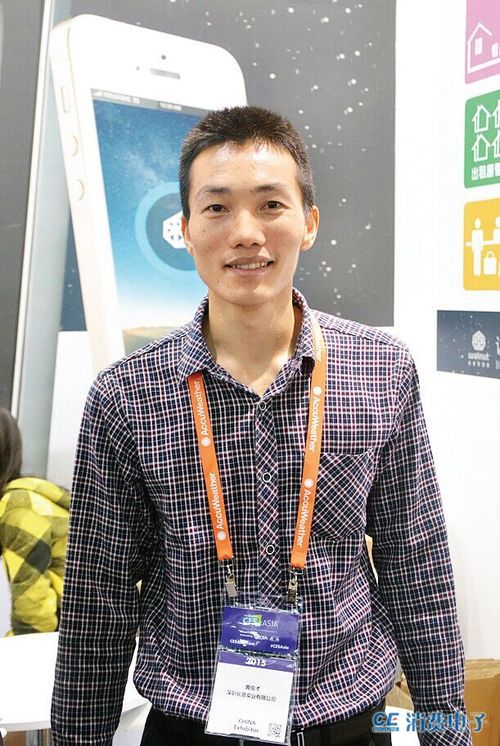 Shenzhen Huixingu Locks Technology
HUANG Juncai: In my opinion, the CES Asia represents China's latest intelligent electronics exhibition, and it includes family consumption which is suitable for our intelligent door lock products. We have participated in many domestic exhibitions including the Shenzhen International Cultural Industry Fair and the Canton Fair. Compared with other exhibitions, the CES Asia exhibits more up-to-date products, many of which seem to be concept products; for example, we also launched the first door lock controlled by a mobile phone. At the first CES Asia, many domestic and overseas consumers and dealers have learned about our products, which launches our intelligent mechanical interconnected products towards the international market.