Jiang Xin's Wonderful Life Outside the Drama
'The bitch is pretentious' -Although theselines only appearedonce in Legend of Zhen Huan, theyturned the character 'Concubine Hua' into a classic. She is imperious but absolutely crazy about love. She seems to be insidious and indifferent, but she's hot in her heart. Even whenplaying an antagonist, Jiang Xin gains extremely high popularity. Basedon her splendid performance in this drama, the actress has wongreatpraise from the audience and is becoming well-known to more and more people.
Jiang Xin occupied the TV screen in April. Two dramas about city life and lovein which she playedthe leading role,Keep the Marriage as Jadeand Ode to Joy, were successively broadcast, stirring up a craze for pursuing dramas.
The actor is the carrier of the role, striving to play the 'antagonist' to the utmost perfection
Keep the Marriage as Jadenarrates a story about howa couple save each other and themselves after their tranquil but lovelessmarriage breaks up. The drama manifests greatpositive energy. Whether in love or domestic affection, it shows a solicitude and warmth that comparable dramas lack. Itsaudience rating is steadily rising. Jiang Xin said frankly, "Idon't pay much attention to the audience rating becauseIapproach every roleseriouslyand I love them all."
In the drama, Jiang Xin is bold enough to take ontherole of the other woman 'Hua Sha', who is bent on replacing the leading actor's wife and repeatedly tries every wayto destroy her family. Many members of the audience hate her passionately, whichpreciselydemonstrates Jiang Xin's consummate performance. Of course, the quality of her performance is directly related to her accurate understanding of the role. As Jiang Xin explained,"Hua Sha is very stubborn, or morbidly stubborn. In fact, her stubbornness is caused by many factors. Hua Sha just appreciates Zhao Mingqi at the beginning. She thinks he's a good man. He carefully selects a car for his wife and thinks about every detail, which moves Hua Sha. She is a person without a sense of security. When such a man as Zhao Mingqi appears in front of her, she becomesinfatuated with him. In fact, Zhao Mingqi gives her a sense of security. Zhao Mingqiis like a ship that Hua Sha encounters in the sea. She is unwilling to disembark, so she tries all kinds of despicable means."Such a characterwill obviously be hated by the audience. She explained herreason for taking onsuch arole: "I knew that Iwould have the chance to cooperate with Jiang Wenli, andI especially love her. I love watching her dramas. Ididn'twant to miss this chance. However, I don't agree with this role, so it takessuffering to shape it. I'm very tangled in my heart. As an actor, I have to accept the role itselfbecausethe actor is the carrier of the role. The greatest pleasure inshaping roles is that I will strive to play the 'antagonist'to the ultimate perfection."In her eyes, Hua Sha is a negative example in real life.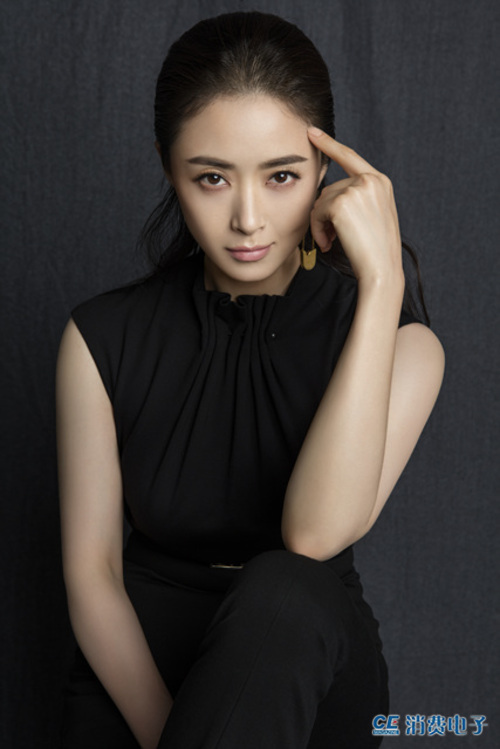 Findyourlove and never be apart
In Ode to Joy,another drama that reflects the livesof women in an urban workplace, Jiang Xin playsa 'Cinderella'named 'Fan Shengmei' who is as domineering as Concubine Hua but with an obvious soft side. 'The Five Beauties of Ode to Joy', consisting of Liu Tao, Wang Ziwen, Yang Zi, Qiao Xin and Jiang Xin,demonstrates the daily life of white-collar workers in ametropolis.
Aboutthe difficulties encountered by women in the workplace, she frankly said that she knows a little, but she can feel the hardshipsofthe workplace insuch roles as 'Little Earthworm', 'Guan Guan' and 'Fan Shengmei' in the process of shooting. She is clear about one point: women must learn self-identity and can't blindly follow men. We must learn self-improvement and self-independence, so men will cherish usmore. If you have self-respect, others will love you more.
When it comes to her emotional life, she said that she won't take the initiative to pursue a person when she encounters someone she favors. She appreciates pure and natural feelings, and believes that it isbetter to let nature take its course. She told our reporter, "I'm longing for the true love of givingyourheart and neverparting. I am overnice about affection becauseI can't stand 'extramarital love'. "
Shooting anEpisode: the rapport of the 'Five Beauties' lengthens the eating scene, depending on theirappetites
Ourreporter pointed outthat Jiang Xin did her very best to publicize the drama Ode to Joybefore it was broadcast. She said that the drama is filled withsincerity. When talking about the appeal of the show, she said,"The Five Beauties are very beautiful, and all kinds of gods will appear on the screen successively. Won't it be wonderful? Ha ha!"
As theold saying goes,'three women are needed fora drama'. This drama has five leading actresseswho playfive women with widely different personalities. Recollecting some interesting episodesduringshooting, she smiled and said,"We had a tacit mutual understanding to lengthen the eating scene depending on our appetites."As for the other four actresses, Jiang Xin evaluated them as follows:"They are good actresses with wonderful acting skills. Sister Tao is our leader, and we listen to her; Wang Ziwen is very casual, likeQu Xiaoxiaoin the drama; Yang Zi is particularly pure and cute; and Qiao Xin isactually not as dull as Xiaoguan in the drama. She is lively and lovely in real life."
The foodie crazy aboutbringing cooking utensils to the set
Jiang Xin is sincereand frank in person. She doesn't avoid calling herself a foodie in the least. In her view, fondness fordelicious food is a characteristicthat Taurus can't conceal. If we say she is infatuated with love in the drama, so is she crazy about delicious food in reality. She says that she becomes slightly chubby simply because she is a foodie.
In fact, many senior foodies not only enjoy delicious food, but reach a certain state through eating. Jiang Xin is such a person, especially fastidious about delicious food. She said,"My definition of delicious food is that it must havecolor, aroma and flavor."
It's understood that Jiang Xincooks delicious food herself. She brings an electric cooker and all kinds of pots and pans to the set. Almost all the things in herkitchen are complete. Sometimes, in order to meet her desire for delicious food, she will go out to have a meal and satisfy her appetite.
A passion for modulating photos into warm colors, giving them the texture of film
Besides delicious food, Jiang Xin also loves watching films and listening to music in her sparetime, so she always takes a stereo with her. Of course, her mobile phone, computer and tabletare indispensable to her, and especially her mobile phone. She told us,"I'm away from home all year round because of filming, so Ihave more opportunity to contact and care for my family through my mobile phone."
Speaking of mobile phones, selfies can't be avoided. For Jiang Xin, selfie constitute a pure formof entertainment. You can take pictures whenever you want. As their photography skills become more and more honed, many actors will be a guest performer for a photographer while waiting between scenes. They can take pictures ofthemselves or filmsome wonderful andinteresting moments in the process of shooting. Jiang Xinloves to try some funnycamera apps. She said, "They have some novel elements. Sometime the photos can scare me.I also often use apps with filter color modulation. I love to modulate photos into warm colors so as to givethem the texture of film."
Conclusion:
Jiang Xin is a person of great enterprise, but she expertlybalances the relationship between her career and her family. Her family is her power and the direction of her endeavors. Her work and her familyeachoccupy 50% of her life.
With Mother's Day just around the corner, Jiang Xin hopes to select a portable photo printer for her mother as she loves to take photos. This way, she can print photos at any time. It's very convenient.