Not noly Tesla, Electric Vehicles will be fighting!
On 5th May 2017, According to media of Germany reports, German chancellor Angel MerKel expressed: at present, Germany can not achieve that there would be one million Electric Vehicles driving on the road in 2020.
The search shows,there are only 34,000 Battery Electric Vehicles and 21,000 Plug-in Hybrid Electric Vehicles are driving in Germany, accounting for all of the total number of road vehicles 0.1% in the country.Though 23% of electric vehicles worldwide are produced in Germany, German market sales accounted for only 3%, and China is 31%,America is 28%.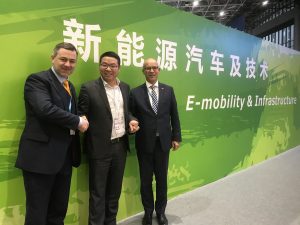 According to BEM date displays, About 20% of CO2 emissions and 38% of nitrogen oxide emissions come from the German transportation industry.The flow of climate is global, not only Europe,global warming targets are imminent,high energy consumption and high carbon emissions are already unworkable.
Focusing on carbon emissions is a concern for the future of earthlings, in this context,so many countries decided to sign The Paris Agreement. If the life of a car is 20 years,By the end of 2050, global resources will be depleted, if The Paris Agreement want to succeed, this means that since 2030,Global zero-emission vehicles must be popularized.
If we don not implement energy-saving emission reduction programme,In the case of a significant increase in global atmospheric carbon levels, The alternation of global climate flow will stop.So energy-saving is very important,It's about the development of all humanity.
On 30th Nor.2017, At the China Auto Technology Achievements Commercialization & Invesement summit,More than 100 elite representatives from China and Germany gathered to discuss the future of transportation in the future.So,《CONSUMER ELECTRONICS》magazine interviewed MR.Christian Heep,Vice President of Germany.
When the reporter meet Mr. Christian Heep, He looked so kindness.In the impression of people,Geimans are careful and serious about their work.This is also confirmed in him, in the context of the native language being German,In the process of using English for interviews, and he would repeatedly explain the word to the reporter.
Mr. Christian Heep said,BEA was founded in 2009, Its growth rate is very fast,Each year will create a turnover of 120 billion euros.From the founding to now,Mr. Christian Hepp has been vice president of the association.
"We have been collaborating with companies in Frankfurt, Germany and Shanghai, China for many projects since its inception.After 7 years of accumulation,BEM has accumulated a lot of partners around the world.BEM is a flagship exhibition 2017 Shanghai International Automobile spare parts, maintenance testing diagnostic equipment and services exhibition,BEM is Additional exhibition series at the parent fair in Frankfurt, Germany. It is More inclined to power supply Electric and new energy travel."Mr. Christain Heep said it to reporter.
Mr. Christian Heep is pleased that German Electric Vehicle Association and China Electronic Chamber of Commerce can cooperate.For BEM,China Electronic Chamber of Commerce is a new and good partner,We will be dedicated to the Chinese and German markets, Including diversified enterprises to open up the market and Finding new business opportunities for cooperation and using the power of both associations to integrate resources, etc.Then provide services for corporate members.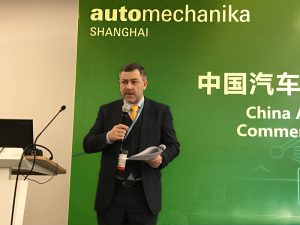 Not only Tesla,
The reportera sked Christian Heep,"in traditional car field, Benz BMW and other brands have been well received by Chinese consumers,However for Electric Vehicles, Chinese knows more about Tesla from the Unitde States.Does Germany keep its strength in the field of electric vehicles?"
First, Chrietian Heep affirmed the interesting question, then he said ,If the German government will always do the right things,and you do not need us.Then he explained that, Tesla is also our member,BEM will tell our government, you are wrong! Christian Heep thinks when New Energy Vehicles are all over the world,The German government is still making every effort to maintain the traditional automotive industry."I am very embarrassed to tell you,The most automotive on the German road is the Renault electric vehicle in France,But this car is particularly hard to drive."then He mentioned,"It's time for tje New Energy Vehicles to fight in Germay."
Of course,Tesla develops very quickly, and German Electeic Vehicles looks so slow,But actually, BEN and most car companies have stored very strong technical resources and technical capabilities.Christain Heep gives reporter an example,German Mercedes-Benz and BMW are later than the United States,But the development is very rapid and robust.Germans are accustomed to wait until the entire market becomes clear, and then strike one stroke at a time.Its style is not like that of the United States or other countries, Christian Heep thinks this is too risky.
The seriousness and rigour of German engineers left a deep impression on people,when When reporters asked that the United States has been ahead of the market, why did not the news in Germany?Christian Heep replide,Germans are doing things seriously,but,Germany is not like other countries,one thing is hurried to the market before it is perfect.He thinks that the United States is slightly aggressive,at the same time, he also indicated, Tesla's development in Germany is also the fastest.
"Maybe we will lose the whole market at the begining, but if German companies decide to do sonething,we believe that the German car is the best."
When reporter asked that: How do you think of Chinese Electric Vehicles industry? Christian Heep made a joke and said, Chinese government wasted a lot of money.But then he ecplainde,It is worth learning from the Chinese government that you should never over-develop your car,because Traffic Jam is so afrad.
"Do hope Chinese government can found more and more Sharing Economy,Sharing Economy is different from Metro and Bus,It need lots of Public transport resources, their city is small, so don't need everyone to have a car".
Christian Heep introduced EVzone's video about 《GM and SAIC Group co-host-World Expo will reach 2030and summarize the forum》and said:"The video shows not only China's future modes of transportation,It will provide infinite imagination when traveling in the whole city in the future.The only direction for the future of mankind is New Energy.And there is no other way to go."
Christian Heep had a lot of topics to talk about China.Christian and BEM He had further cooperation in colleges and companies.He saw the future of the Chinese market and also felt the sincerity of Chinese friends.
He personally witnessed the New Energy automotive industry,Especially the development of Electric Vehicle industry.He first came to China seven or eight years ago,He tried to drive a car sold in the Chinese market,thses days,he also saw the latest car released by China,he said , the change is too big.
"Some things the Chinese government does should be remembered in the annals of history,Not only for the Electric Vehicles industry,It is more for the sustainable development of the environment. Chinese government attaches great importance to environmental protection and the use of new energy,this is a very good and important thing.I believe in the next few years,With the support of the Chinese government, the global environment will undergo great changes."Christian Heep told to reporter.
Chretian Heep hope the Chinese government is on the right track, if that,BEM will have more cooperation with China.Cooperation is a win-win situation that can bring better economic benefits to both parties.At present, BEM has reached a very good cooperation with the neighboring European countries.In the European family,BEM has close contacts with Netherlands,Mexico, Switzerland, France, Belgium and other countries.But when it comes to truly international cooperation, China is the first.Christian Heep expresses,there is the largest Electric Vehiclesr market in China.
From 8 years ago,Christian Heep and BEM have alreadya djusted the direction of international industry,They transferred their international activity center to China,"Judging from the current state of development, this decision is 100% correct."Chretian Heep smiled and told reporters.
For Christian and BEM,While it is important to create new business models, but they are more keen on Electric Vehiclesr or Smart Vohicles.Because Electric Vehicles can reduce pollution, protect the earth's environment and get tomorrow better and better!