Is it justa gimmick? You'll know when you see it.
A comparison of popular VR glasses cases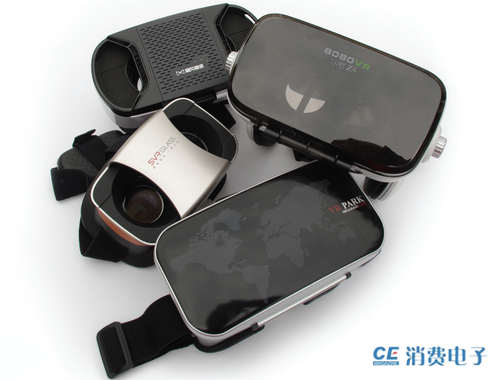 In the domestic consumer market, the glasses case has seemingly become the most popularaccessoryforVR glasses and sells for around RMB 150-200. Thisglasses case is favored by consumers, those into technology. The Evaluation Office of Consumer Electronics selectedfourVR glasses cases on the e-commerce website for comparison to give consumers a better understanding.
VR Glasses (VR Headset Display Device)
In the new era we entered with 2016, the distance between the consumers has lessened. Current VR devices in the market are divided into external headset devices, integrated headset devices, and glasses cases. The external headset device has best user experience. Its representative products include Oculus Rift and Three Glasses, with an independent screen, a complex structure and relatively-high technical content. Integrated headset devicesarerelatively rare. The most famous integrated headset device is the Bossnel headset cinema. The glasses case is known forits simple structure, low price, and low technical threshold.
VIGA Third Generation Intelligent VR,RMB 199
The VIGAThird Generation Intelligent VR is VIGA Technology's latest pair of VR glasses, through which you can use a phone to seeIMAX cinema effects.
The magnetic type mobile phone holder can effectively prevent the mobile phone from being damaged.
In terms of its appearance, the VIGA Third Generation Intelligent VR adopts a snap on frontcover design.First, toggle the switch onthe front cover, and then place your phone in it. After opening thefront cover, you can see a magnetic phone holder in the middle. After placing your phone in the middle, you can fasten its holder and tighten its front cover to preventit from getting damaged.
After you place your phone in its position, you can adjust theobject and pupil distance. The object distance button at the top of the glasses uses an independent design. The pupil distance button in the middle of the upper part of the glasses uses an integrated design. VIGA's pupil distance adjustment and dual-distance adjustment functionusesanintegrated adjustment design. If the user has different vision in each eye, theimage definition experience is relatively poor, with some images appearing double. Panorama images may seem unrealistic.
Compatible with such APPs as 3D BoBo, Mojing, etc., and has great image quality.
VIGA ThirdGeneration Intelligent VR has no exclusive apps, but is compatible with apps like 3D BoBo, and Mojing. Through testing, we discovered that VIGA Third Generation IntelligentVR is neither good nor bad in terms of image distortion. The image has no obvious distortion or deformation, and no double images. Its image quality is rather good.
The light transmission of the lens isn't bad and image definition is very good. The amplification factor of the lens is pretty good. The lens is commonly known as a "magnifying lens." Ithas a good immersive experience. In case of light leakage in a bright place, its entireimage quality will be reduced. Therefore, it's best to view films indoors with lowlighting.
According to the information from its official website, theseglasses can be used in viewing 3D films and playing VR and mobile games. If you search for "VR" in the AppStore, you'll see many fun games and videos. If you want to watch a film, you canuse software like CorePlayer, 3D BoBo, etc.
Conclusions: Its functions are neither good nor bad. Its performance is pretty good.
As a whole, VIGA Third Generation IntelligentVR is neither good nor bad. If you want to try it, it's available throughJD. This VR is a VIGA Mojing thirdgeneration product. In spite of the enhancement of its performance, its value at thesale price of RMB 199 is somewhat low.
TheseVR glasses werelaunched by Shanghai SnailVR Information Technology Co., Ltd., and areknown as currently smallest, lightest VR glasses.
A light,fashionable appearance!
In terms of its appearance, the main body of SnailVR SVR Glass usesimported plastic material and has a champagnecolor. It's both light and fashionable. The difference from other four products is that SnailVR SVR Glass does not useabox cover type mobile phone placement mode, but is instead directly inserted into the phone through an openingon the sides. Because of this, it seems to easily scratch phone screens; however, it has no impact onaphone with a screen protector on it.
The weight of SnailVR SVR Glass is 275grams. Its three rubber tightening belts can guarantee its securitywhen wearing it. Compared with the other four products, the tightening belts of SnailVR SVR Glass are somewhat short with relatively small of length. A soft leather block at the end of the personalizedtightening belt can protect the back side of the user's head from pain arising from prolonged use.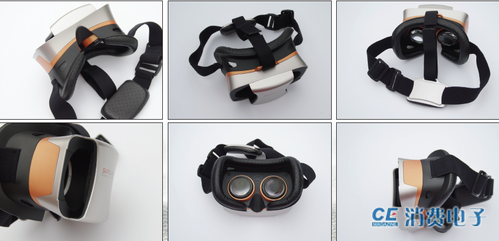 Has a vision adjustment function
From the back of theglasses, you can see that SnailVRSVRGlass' parts thattouch the face usealeather designand its round holes can guarantee breathability. At the four corners of theVR glasses are four air holes. In the photo, you can see the lenses of the SnailVR SVR Glass. They can adjust the vision by rotating clockwise, with a maximum of 800degrees. The adjustor, however, is not easily rotated but it can bring nearsighted consumers a better experience, at least, without them needing to wear glasses.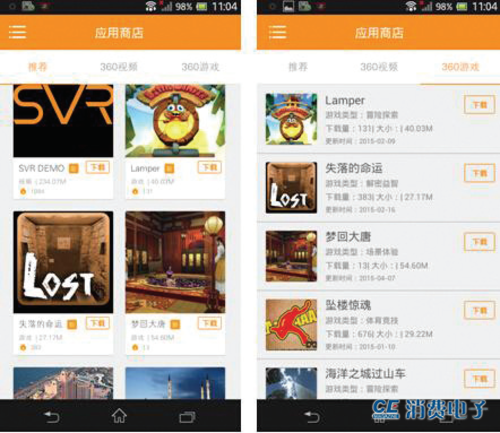 ExclusiveAppResources
Currently, many VR glasses are equipped with exclusive appvideo software,SnailVR SVR Glass is no different. By scanning a QR Code in its user guide, the users can easily download theVR Manager app. After opening it, users can see options like recommendations, films and TV shows, 360 videos, and 360 games. Each option has a lot of content.
After experiencing the Urban Rollercoaster in the Laysha 4K/360 games in the 360 videos, I am very surprised at its visual effects. Its image can cover most of the visual field. Byturning my head, I can, with the first angle of view, see virtual images at any angle. The changes of its angle of view from just rotating one's head are relatively sensitive and accurate, which allow for an intensively immersive experience. All of the resources have been processed by the manufacturers, so watching themwon'tcause dizziness. SnailVR SVR Glass is equipped with a Bluetooth a thin, compact, and portable remote control. The most important thing is thatit's possible to use one'sphone whilewatching a film, which greatly promotes the user experience.
Conclusion: SnailVR SVRGLASS has outstanding portability!
As a whole, SnailVR SVR Glass is a very good product. Its many personalized settings that, at the very least, represent the progress of the VR glasses. Compared with the other products, SnailVR SVR is the smallest which makes it the mostportable. In addition, its abundant appresources and independent remote control give it bigger advantages in outdoor use.
This year has witnessed the explosive growth of VR glasses. Many domestic manufacturers have successively launched newlydeveloped products. Recently, XiaozhaiMojing has launched its new VR glasses – Xiaozhai Z4.
Integrating the earphone's integrated multimedia design!
Xiaozhai Z4 has a natural style, a semi-transparent cover design, integrated earphone equipment. As seen from its photo, the highlight of Xiaozhai Z4 is that it is a pair of fully immersive mobile phone VR glasses that integratevisual and auditory systems. It is equipped with a builtin Hi-Fi earphones. Its casing is made of ultra-soft protein leather, which can guarantee itssoundproof and 360° surround sound effects. It can adjust its ear pressure, meaningit can be worn for a long time without any discomfort.
It also has a mechanical touch screen function which is similar to Samsung's gear VR. If the user holds a remote control in hands whenwatching a video, it is not personalized. It's similar to Samsung Gear VR's mechanical touch screen key. Bypressing and holdingthe key, the user can operate of the touch control screen, which includes functions likeconfirmations, exiting, etc. This key replaces part of the functions of the handle.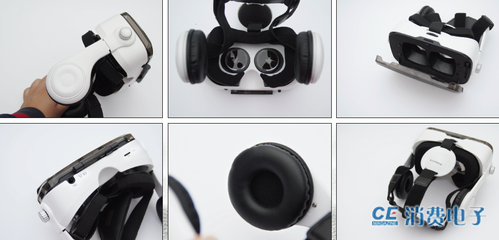 An adjustable short-sighted design
Xiaozhai Z4 uses memory spongeson the parts that touch the face. Compared with the previous generation of products, the part at the bridge of the nose fits the face well without any light leakage. After it wasput into the mass production, the memory sponge wasno longer used. A key at the top of Xiaozhai Z4 can be scrolled towards left and right to adjust the focal length. Byguaranteeing the angle of view,nearsighted users don't need to wear glasses when the angle is within 600 degrees. Its adjustable earphones fit all sorts of head shapes, which is a nice consideration for users.
Its pupil distance adjustment (56-68mm) is designed at the top of the body. The cover can be opened by pressingabutton. When the front cover is opened, the two rubber brackets in the front can be used to hold the user's phone. Thebrackets can be adjusted to theleft and right to conform to various phone sizes.
Although it's transparent, its light transmission amount in no way influences the camera's normal frames. Under head control mode, it can achieveindirect touch control of the screen. Without the need of a Bluetooth device, it can achievefunctions such as shooting, confirmation, going to the next page, and more. It can support operating systems like Apple, Android, and WP.
Compatible with multiple VR games and video software
Xiaozhai Z4 is not equipped with an exclusive app. However, it is compatible with popular VR video software and VR games. The editor has tested it with 3D BoBo. The visual field which can be seen through the VR glasses is a curved surface. Byswaying your head towards left orright, the user see different content. This effect is particularly outstanding forpanorama resources. Usingthedancingas an example, the user can see that the person floats abovethe center of the stage, and can sway to theleft orright to see a360° panorama view. It is completelycontrolled by the users. It has an even better effectwhen viewing highdefinition panorama photos.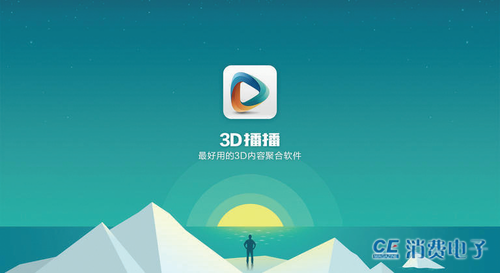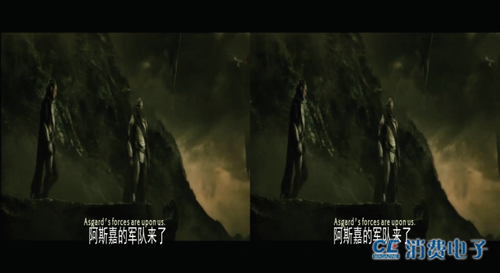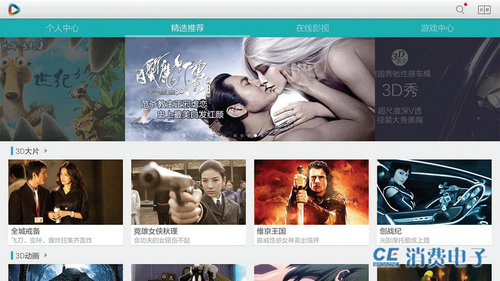 Conclusion: Outstanding multimedia performance
As a whole, Xiaozhai Z4's overall performance is very good. The definition and clarityof the Xiaozhai Z4 is much higher than that of most of mobile helmets. Its heat dispersion feature makes it very comfortable. It has builtin earphones,allowing it to perfectly combine video and audio. It handles multimedia well, which enhances user experience but sacrifices portability.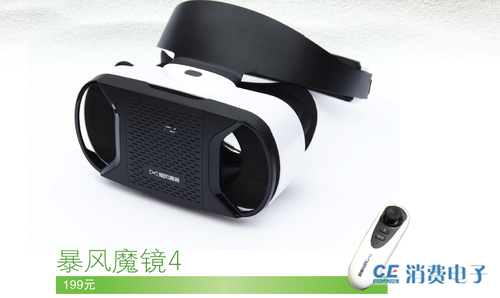 CorePlayerMojing 4 are VR glasses that can achieve IMAX effects on phones. When using it, it must be paired with the exclusive Mojing application. When viewingregular movies, it can achieve cinema-like effects.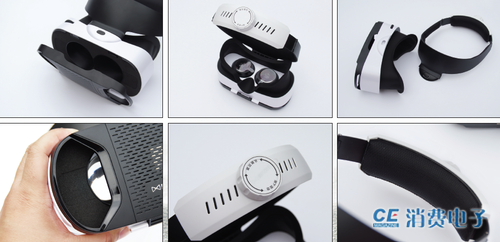 More personalizedheadset design
In terms of its appearance, CorePlayerMojing 4 doesn't use the common tightening belt design.Its fixed device uses a rotary buckle, which is simpler and firmer in adjusting its degree of tightness. Its front cover adopts an open design to improve its radiation effects. The radiating fan is optional. It's officially stated that the fan can reduce its temperature by up to 10 to 15 degrees. To meet various users' demands in eyesight and pupil distance, CorePlayerMojing 4 is specially designed for thesecorresponding groups. The users can adjust it according to their own habits. Nearsighted users can also wear the glasses.
Moreover, CorePlayerMojing 4 uses new spherical mirror FOV96° lenses, which can enhance lens resolution, increase the clear area of the lens center, and reduce blurring around the edges, thereby reducing the dizzinesseffects arising from immersive experiences.
Although CorePlayerMojing 4 uses spherical mirror FOV 96° lenses, when considering the glasses potential light leakageduring the daytime and potential discomfort of the sponge material, the previous generation sponge padshave been changed to medical grade silicone. They're comfortable to wear. Even if worn for a long time, the glasses don't cause any discomfort when compared withordinary silicone material.
What's more, CorePlayerMojing 4 provides a handle with three keys and a controller. These keys handle operations like clicking Start-up/Menu, Back, Confirmation, etc. The controller can selectup, down, left, right which replaces the front, back, left, right functions of the handle in the game.
Exclusive app software and controller interconnection! It's a better experience
CorePlayerMojing 4 also launched an exclusive app. Through simple connection with the exclusive software and the controller, the initial operation can be completed. Prior to using it, the user needs to calibrate its gyroscope. Resources like videos and games can be downloaded through the VR Market. The resources which come with the glasses are rather basic. For a better experience, users must download other resources.
It's officially stated that users can experience the shocking effects of IMAX cinema with Mojing 4. Thanks to its immersion-type experience, the effects are more intense.According touser feedback, the glasses aren't very comfortable during use. If there wasa nearsighted adjustment function, the user experience would be better.
Conclusion: The headset providing the best experience
CorePlayerMojing 4 similar to the other VR devices. Dueto its immersive experience, wearing it for a long time may result in dizziness. In terms of its overall experience, the sale price (RMB 199)of the CorePlayerMojing 4 is relatively reasonable. If it had a nearsighted adjustment function, it would be more popular.