Your portable nail shop! STYLEMATE ShengMiao Nail Painting Machine W1 Review
by editor ·
"A nail without manicure is like a man without wearing clothes" Jolin Tsai said, a star is from Taiwan, is one of the strongest spokesmen of the nail art.
​
​
Speaking of nail art, there should be few girls who are not tempted. Many girls who like to make nails are often divided into two categories: one is a delicate girl who goes to a nail shop to hand nails to a manicurist, and the other is a girl who likes stay at home and don't want to go out.Both nail styles have their strengths and weaknesses.
Recently, the editor found that there is such a fairy manicure machine that can take advantage of both advantages and remove its shortcomings! It is STYLEMATE's Shengmiao nail painting machine W1, with it, automatic nail art is not a dream at any time. In this issue of "Consumer Electronics" evaluation room, the editor got this STYLEMATE Shengmiao nail painting machine W1, then what is its experience? Then look down.
Technology + Manicure, Global Technology Manicure Leader
STYLEMATE W1 is a new product launched by Taiji Electronics Co., Ltd. It has changed the history of the uncore technology of the nail machine industry. What is special about this pink "Magic Cube"?
​
​
After opening the box, a lovely cube came into view, the pink appearance reveals a faint girl youthful atmosphere, and the air is full of romantic flavor. At the same time, there is a bright mint green for you to choose. The body touch is smooth and matte, very textured. The shape is a cube style, the middle is the hole where the painted finger (also called "finger seat"). The overall weight is only 1.6kg, the body size is 175*168*175 (mm), the size is moderate, it will not occupy too much space, free to move and carry.
​
​
​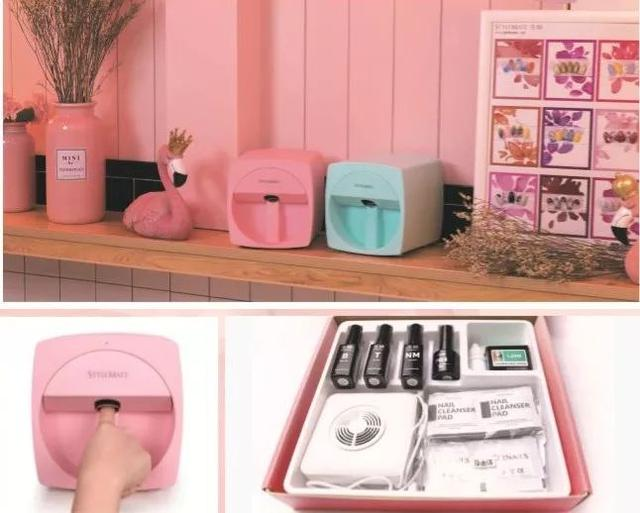 ​
From left to right under the machine are the switch, phototherapy light interface, switch indicator light, charging line interface and parameters.
In terms of accessories, it is also full of sincerity, with primer, sealant, liquid cleaning glue, printing coating glue, ink cartridge, flip-type phototherapy lamp, cleaning bag, unloading bag. Among them, the printing coating glue is their characteristic, which can make the pattern clearly appear on the nail, restore the color and contour of the pattern, and break through the technical precision problem of the traditional hand-painting.
​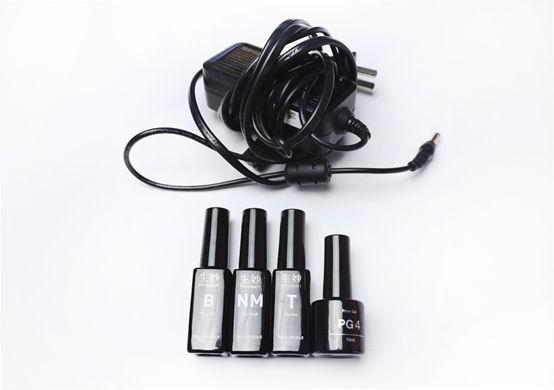 ​
Power adapter and four glue
​
​
It is also very convenient to use. It can be said to be a "fool" type operation. As long as you can brush coating, and then you can use it. The operation process only takes five steps which can be said that it is a zero threshold to use.
Before you operating, you need to download an O'2NAILS APP. After registering and logging in, you can select any style you want. There are as many as 800 styles, and you will continue to update the style. Currently, there 5 new models are pushed every week, more than 20 models are updated in one month.
​
​
​
​
​
​
calibrate the print position before use
​
​
Simple steps make nails no longer difficult
​
​
Use experience
Let's talk about how the editor's use! First of all, because it is automatic painting, I feel particularly technical sense every time I use it. The whole process is also very enjoyable, especially when selecting styles, because of the variety of styles, picking up is like a Taobao-like pleasure (Taobao is a online shopping webset) . The most amazing thing is that you can print any pattern you want, just adding the picture to the photo library of the nail machine and you can immediately print it on your nails. You can put your favorite star on your nails and be excited when you think about it!
Secondly, the printing process is very fast. It takes only half a minute from the blank nail to the painted. When you take out your finger and see the picture, it will have a magical magical feeling.
Although the steps are a bit complicated, a total of four different nail glues need to be applied. (Be careful not to apply the wrong glue in different steps) But after using once or twice, you will quickly become familiar with it.
Officially claimed that the manicure is usually retained for more than one month. However, I often can't help but buckle my nails. I didn't wait for the nail glue to fall off naturally, and I started to print the next style with excitement. However, it is not recommended that you change too often and you should give your nails some rest time. Otherwise it will easily damage your nails.
This nail machine can only be used as a flat manicure for the time being. It is difficult to make concave-convex effect, but if you have more hands-on ability, you can unlock more skills! Because it is very difficult to draw a pattern on a small nail by hand, use a machine to print the pattern template on the nail, and then combine the simple hand on the pattern, so that the pattern will immediately increase the three-dimensional effect, the effect will be better.
Evaluation summary
The editor believes that the biggest highlight of STYLEMATE is that it takes only 30s to get a beautiful and complete nail face. The time for finishing the hands is 1-1.5h, compared to the traditional nail painting machine 2-3h, saving half the time.
In addition, the simple and beautiful, small size, low cost, simple operation, support for mobile phone mapping, accurate and clear lines, diverse styles, and easy to lose are its advantages.
Let's talk about the price you are looking forward to! The official website is priced at 3,980 yuan (RMB). Buying such a nail artifact, you can make yourself a nail art at home every day. After a long period of time, it is more cost-effective than going to a nail shop. It is a cost-effective nail machine. A beautiful girl can consider getting!