CEEC – Shenzhen's New Business Card
An exclusive interview with Director and General Manager of SHENZHEN SEG CO., LTD. LIU Zhijun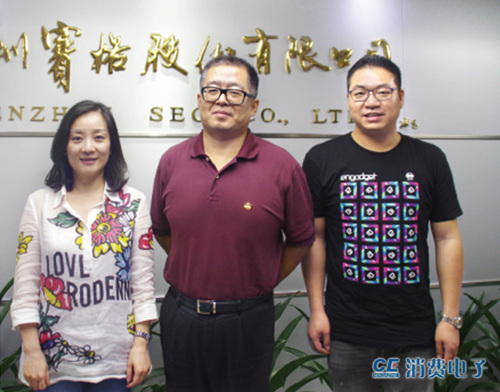 Left: Deputy General Manager of CEEC Co., Ltd. LIU Jing
Middle: Director and General Manager of SHENZHEN SEG CO., LTD. LIU Zhijun
Right: Executive President of Consumer Electronics WANG Fushan
The consumer electronics industry has attracted the attention of the public because it is closely linked with our lives. It cannot be denied that the magic of science and technology is perhaps a fatal attraction. Therefore, the enthusiasm for the grand annual electronics gatherings of CES and IFA is not at all surprising. Technology advances human progress, and it also nourishes cities. Shenzhen has grown up on the road of technical innovation and exploration. Currently, the China International Consumer Electronics Exchange/Exhibition Center (CEEC) has settled down in Shenzhen as a place where you can enjoy a similar experience to the CES and IFA. In the future, the wind vane of global technological fashion may point to Shenzhen. SHENZHEN SEG CO., LTD. is one of the shareholders of the China International Consumer Electronics Exchange/Exhibition Center. Through an exclusive interview with Director and General Manager of SHENZHEN SEG CO., LTD. LIU Zhijun, this reporter from Consumer Electronics feels that a resounding urban business card is being distributed to the people of China, and even of the world.
New specialties: electronic products as souvenirs
Everyone has their own city impressions, and various awarenesses come together to form a consensus. As for the city impression of Shenzhen, perhaps, as LIU Zhijun said, "If you come to Shenzhen, you'd better buy some electronic products as souvenirs in Huaqiangbei. Shenzhen's specialties are not local foods and souvenirs of scenic spots, but a wide variety of electronic products."
Some people even say that Shenzhen is a paradise for practitioners in the electronics industry. This is not at all exaggerated. With the rapid development of the electronic information industry since the 1990s, China has become an R&D and manufacturing center of global consumer electronics products. Furthermore, the Pearl River Delta Region and Pan-Pearl River Delta Region have become highly intensive R&D and manufacturing bases. Thanks to its exclusive market superiorities, industry advantages, environmental advantages and Shenzhen-Hong Kong cooperation advantages, Shenzhen has attracted a host of competitive electronics industry giants. Through years of development, Shenzhen has gathered 321 listed companies, and the output value of its electronic information industry is up to 1/7 that of the national electronic information industry. Among these industries, the consumer electronics industry is dominant. Shenzhen has undoubtedly become China's most important electronic information industry base.
Over the years, with the infiltration of brand power, under the increasingly optimized business environment, and based on its independent innovation ability, Shenzhen has created many 'Shenzhen Manufacturing' enterprises; Huawei and ZTE in the communications equipment industry, Tencent in the internet industry, Lenovo and Great Wall Technology (GWT) in the computer manufacturing industry, and Skyworth, TCL and Konka in the household audio-video industry already have become well-known leading enterprises and brands. Such innovation-oriented enterprises as EVOC, HSAE and NETAC have already become representative enterprises in their corresponding sectors, and multiple Shenzhen brands have ranked top globally at the CES. As for unmanned aircraft, we think of Shenzhen Da-Jiang Innovations (DJI) first. DJI's unmanned aircrafts have been seen on American television many times, and they enjoy high popularity in North America. The newly-popular AR mobile game Pokemon Go has triggered the battle between VR and AR industries once again. In the year 2016, known as 'the first year of virtual reality', nearly 290 enterprises in China are developing the virtual reality industry. One-third of these VR enterprises have settled down in Shenzhen. Its young, subversive and innovative city genes are driving Shenzhen ahead of the others.
In the era of big data, clear and accurate data has become hugely preferable. Out of 4,119 exhibitors at the 2016 CES, 1,300 were Chinese manufacturers; out of those, 652 were from Shenzhen. IEEE Consumer Electronics Society Deputy President and Australian Academy of Technological Sciences and Engineering Fellow Stefan Mozar has rained praise upon the strength of Shenzhen's consumer electronics industry, saying that nearly 70% of the world's mobile phones are made there. Shenzhen is an indispensable part of the global consumer electronics industry. Enterprises and research institutions in the consumer electronics industry desperately need more cooperation and exchange with Shenzhen. The world needs further cooperation with Shenzhen, but it seems to lack a platform and an opportunity. The China International Consumer Electronics Exchange/Exhibition Center (CEEC) in Shenzhen is certain to be a shining stage for showing the strength and achievements of Shenzhen's consumer electronics industry.
An all-weather everlasting exhibition
According to LIU Zhijun, when we look to the China International Consumer Electronics Exchange/Exhibition Center among the high-rise buildings, a new urban business card is quietly being passed around. On April 8th, 2016, the Ministry of Industry and Information Technology of the P.R.C. signed a framework agreement with Shenzhen City to co-build the China International Consumer Electronics Exchange/Exhibition Center, co-funded by Shenzhen Futian Investment & Development Co., Ltd., Shum Yip Land Company Limited and SHENZHEN SEG CO., LTD. SEG Plaza along with its shareholder SHENZHEN SEG CO., LTD. has become Shenzhen's urban business card, earning it the title of 'The First Market of Asian Electronics'. LIU Zhijun joined SHENZHEN SEG CO., LTD. in 1993, and has acted as Director and General Manager of SHENZHEN SEG CO., LTD. for 7 years. As a 23-year employee of SHENZHEN SEG CO., LTD., LIU Zhijun has rich practical management experience. In the development process of SHENZHEN SEG CO., LTD., he has witnessed the ups and downs of Shenzhen's electronics market.
On the subject of the China International Consumer Electronics Exchange/Exhibition Center, LIU Zhijun said, "The electronic information industry, as one of Shenzhen's four key pillar industries, is the indispensable driving force for Shenzhen's economic development. Its innovation and development are the major work of local governments. In fact, during the '12th Five-year Plan', the Shenzhen Municipal Government proposed building a regionally-influential electronic information industry center characterized by serving the blue economy and adapting to Shenzhen's economic and social development level. In spite of its prosperity, the Huaqiangbei business circle has been marred with the copycat and low end markets. However, strong governmental support, the geographical advantages of Upperhills and the lucrative assets in Huaqiangbei of HENZHEN SEG CO., LTD. have formed a beneficial interaction with the CEEC. On the one hand, Huaqiangbei's business circle can realize strategic transformation. On the other, the CEEC will become a high-end, standard and symbolic landmark which will enhance the influence of Shenzhen, Guangdong Province, and even China, perfecting the function of industrial promotion and directly boosting consumption upgrading."
With a state background and a property value of several billion, the China International Consumer Electronics Exchange/Exhibition Center (CEEC) has a site area of nearly 40,000m2 and 11 floors, and is divided by function into 7 regions: the flagship pavilion provides a diversified OAO platform for international high-end consumer electronics; the theme pavilion includes more than 10 themes, such as VR/AR/e-sports, smart home, digital home appliance/digital projection, beauty electronics/aged-nursing electronics, automotive electronics and intelligent travelling/unmanned aircraft/robotics, intelligent mobile phone and peripherals, with view to creating new scene-type and immersion-type experience modes and providing investors and customers with experience-type services combining technology with humanities; the characteristic pavilion will create a characteristic exhibition hall of consumer electronics combining culture with technology, which will evoke memories of past consumer electronics exhibitions and offer a conceptual experience of future technologies; moreover, you also can see the new product release area (naked eye 3D theater), short-term exhibition area, business negotiation area and leisure area. The CEEC will be a world-class consumer electronics exhibition trading center integrating the release, display and exhibition of new products, user experience and the investment negotiation and cooperative trade of high-end consumer electronics. With such elements as technology, innovation and fashion, the CEEC will meet each customer's demands for building a 365-day all-weather everlasting exhibition.
Left: Executive President of Consumer Electronics WANG Fushan
Right: President and Executive Deputy General Manager of CEEC Co., Ltd. ZHOU Xu
More active, bathed in sunshine and filled with miracles
In such an intelligent internet era, the impact of e-commerce on entity industries is inevitable. To deal with the opportunities and challenges under internet thinking, it is important for Shenzhen's traditional brands to stand out. As LIU Zhijun said, "The CEEC will use two kinds of online modes. On the one hand, it will combine with Taobao's online resources to launch an exclusive online/offline mixed service mode. On the other hand, it will build its own e-commerce platform, as well as an all-channel mode online platform on the basis of its strong entity brands, thereby providing investors and customers with a 24/7 sales experience service and truly realizing an everlasting exhibition trade fair. Consumer electronics are updated constantly, and the hotels and apartments around the CEEC guarantee a certain average customer flow. In reality, it is an active ecosphere. Besides the online platform, dealer association and overseas purchasing groups will also facilitate the conclusion of trade."
LIU Zhijun continued, "We hope that the CEEC will become an exhibition window of national high-quality high-end electronic information products, providing national enterprises with a high-end professional platform from which to seize, occupy and influence the market. This platform can introduce more high-end cutting-edge international enterprises, and facilitate Chinese consumer electronics to 'go global'. With the target of seizing the commanding height of global electronic information industry development, on the basis of its existing industrial foundation and advantages, the CEEC will consolidate the globally leading position of the Chinese electronics industry. Moreover, Shenzhen's electronics enterprises will also become more active."
In the face of the rapid development of the information society, LIU Zhijun cannot help but exclaim, "A few days ago, I was very shocked to hear about the 3.0 sales mode!" In spite of the generation and replacement of various modes, such living-cell-like enterprises with quick self-repairing and upgrading abilities are just like Shenzhen, which is filled with uncertainty and opportunities in the advent of the typhoon, and bathed in sunshine and filled with miracles after the typhoon. Shenzhen has been transforming from a 'City of Copycats' to a 'City of Creators'. After the China International Consumer Electronics Exchange/Exhibition Center opens in May next year, we expect that this new business card will bring you more surprises.